The Ultimate Anal Sex Course for Men and Women
What you'll get from the Anal Sex Course
Explore the thrilling realm of anal sex and enhance your intimate pleasures with your partner

Unlock the advantages of unconventional sex, broaden your sexual boundaries, and get ready for your first anal play

Discover the art of anal intimacy: embrace boundless sensations and unveil new pathways to pleasure
Indulge in unforgettable pleasure with your partner and experience the sensory awakening you've been dreaming of.

Unleash the hidden potential of anal play and feel free and more empowered in the bedroom

Elevate your anal experience: unlock supreme pleasure with anal toys and proper lubricants
Sneak peek into the course structure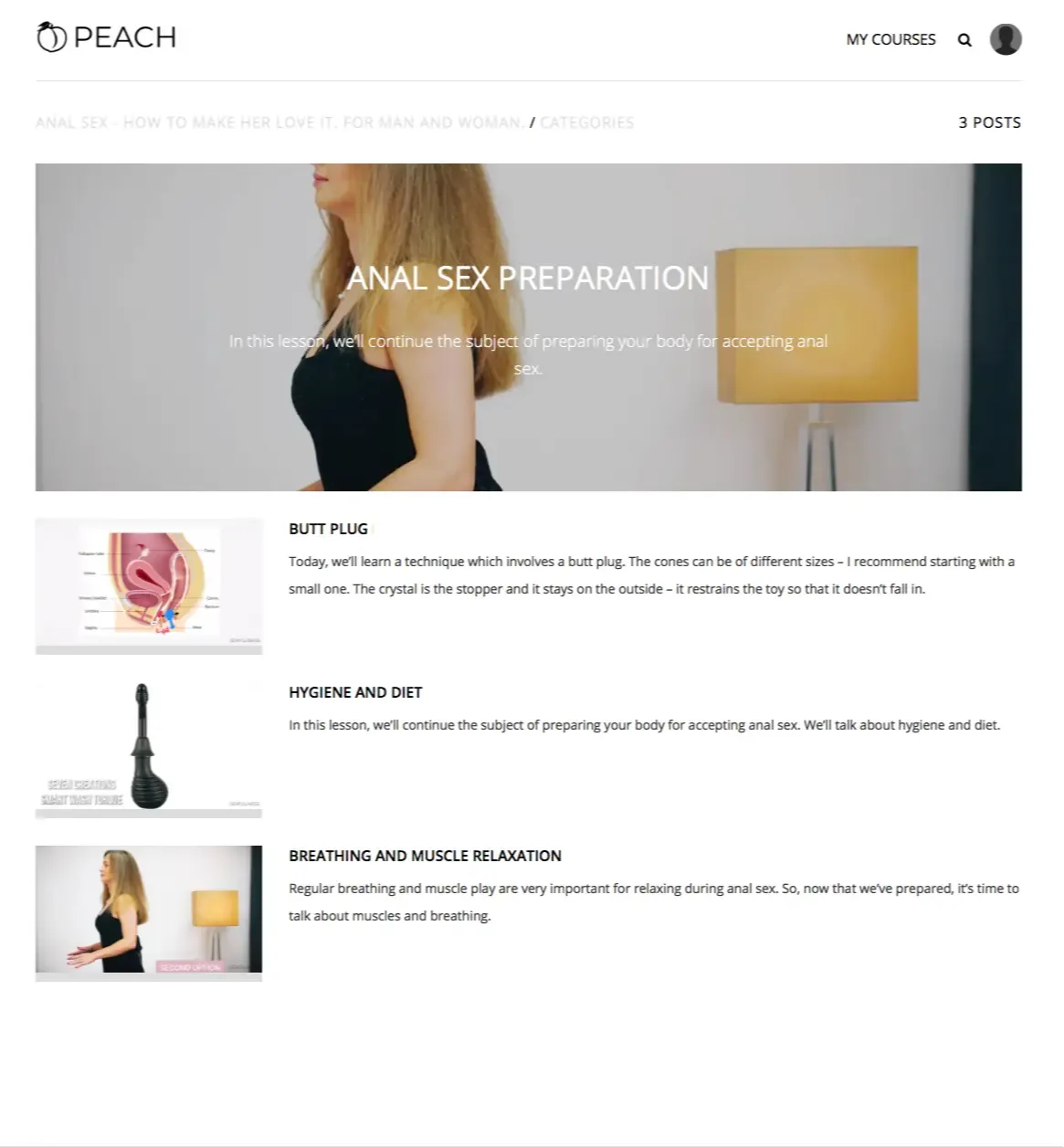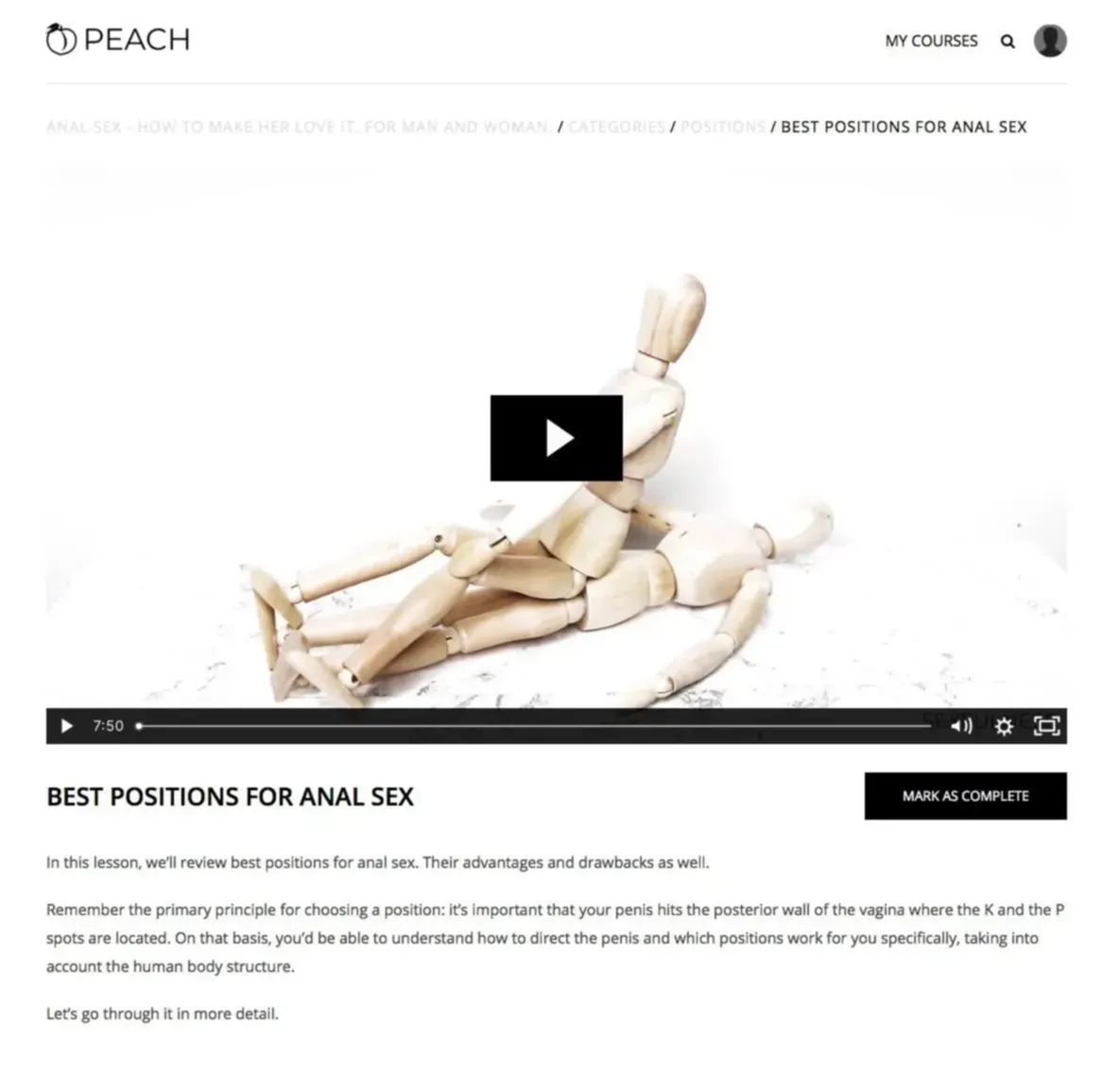 Imagine your anal sex 🔥 a few weeks from now...
You've transformed from thinking you won't be able to find pleasure and enjoyment in anal sex...
...to experiencing mind-blowing anal orgasms and out-of-this-world sensations that'll leave you craving more.
You've banished all the fears that held you back from embracing anal pleasure...
...and now, you know secret techniques that guarantee earth-shattering pleasure during butt play.
You've fully prepared for your first anal penetration, making it an unforgettable experience...
...and now, both you and your partner are ready to indulge in exhilarating anal adventures together.
Anal Sex Course is your one-way ticket to super safe butt play and explosive anal orgasms.
Start your 14-day All-access Pass
now for $1 only
For a limited time
you can get our Special Offer
The course content
1. Course Introduction
     1.1. Welcome lesson
2. The fundamentals
     2.2. Myths and concerns
3. The what. The why. The how.
     3.3. Why do men want it?
     3.4. Benefits for women
4. The rules
     4.5. The rules of butt play
5. Removing barriers
     5.6. Removing psychological barriers
     5.7. Removing physical barriers
6. Preparation
     6.8. Butt plug to prepare
     6.9. Hygiene and diet
     6.10. Breathing and muscle relaxation
7. Awakening 
     7.11. Awakening the K spot
     7.12. A 5-day program
     7.13. "Double Simulation" technique
8. Positions
     8.14. Best positions
9. Toys and lubricants
      9.15. Toys
      9.16. Lubricants
10. Course wrap up
       10.17. The summary of the course
What you'll learn about anal sex
You'll unlock unparalleled orgasmic bliss with 6+ sensational angles and positions designed to help you experience the most fantastic anal orgasms of your life.
You'll experience the ultimate anal pleasure with confidence by mastering the vital 15 rules of anal sex for maximum comfort and safety.
You'll elevate your anal pleasure to extraordinary heights: discover new techniques and strategies for remarkable and unforgettable experiences.
You'll experiment with anal toys and lubricants to spice things up and have unforgettable anal orgasms.
You'll ignite your sensual awakening with a 5-day transformative program: unleash the power of your anal pleasure spots.
You'll wave goodbye to worries and concerns that stop you from trying anal sex and have delicious, mind-blowing butt play every time.
Start your 14-day All-access Pass
now for $1 only
For a limited time
you can get our Special Offer
Don't wait any longer - transform your sex life now!
Join 18,000+ people who have unlocked the secrets to a mind-blowing sex life
Frequently Asked Questions
How does a $1 trial work?
Who is eligible to participate in a $1 trial?
What is included in a Sexfulness membership?
Which classes are right for me?
How much does Sexfulness cost?